Hurrication
"The time one spends at home with friends and massive quantities of alcohol.  This is usually preceded by a hurricane that one did not evacuate from.  Usually accompanied by a lack of electrical power. "
In some parts of the country, kids wake up on winter mornings dreaming for blizzards to turn into snow days.  Well, down here in the tropics, we don't get snow days, so our school children pray for hurricane days.  To them, it's no coincidence that the first few weeks of school coincide with the most active days of hurricane season.
For the rest of us not so lucky to be in school, preparing for an incoming hurricane can be costly and a time suck.  Fill the car with gas, pull cash from the ATM, monitor the weather channel, secure loose items in the yard, find high ground to park the car, pull office files from bottom cabinets, secure windows and doors, stock up on water, batteries, flashlights, candles, canned food, toilet paper, beer, wine, liquor, beer, wine, liquor, beer, wine, liquor … oh look, m&ms!
Phew, that was exhausting.  After all the preparations, if you are lucky enough to have work and school called off, the decision must be made to ride it out or evacuate.  One way or the other, you are in for a hurrication.  The preparations are complete and now there is nothing left to do but wait.  For some of us, the first few hours of this are excruciating.  Your usually busy lifestyle has skidded to a startling halt and you find yourself with a clean house, all of your errands complete and nothing else to do but…well, relax!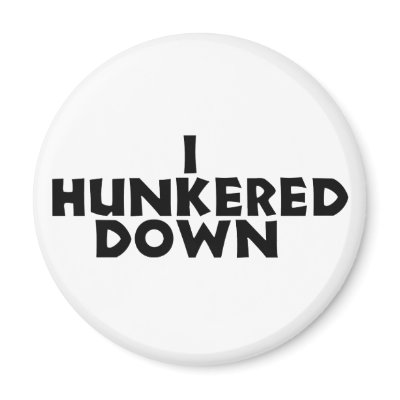 As strange as it may seem, hurricane season in New Orleans is a gift.  It causes us to slow down our pace, relax and have a cocktail.  You spend hours upon hours with family and friends, passing the time and doing nothing else but playing cards and drinking booze, because what else do you do once the power goes out?
This quality time is essential for our community solidarity and without it, we wouldn't be able to relive those ridiculous stories from high school or have dance parties to ace of base in the living room.  When there is no internet, no power and no TV, the creativity and bonding are endless and it is one of the reasons that NOLA-ites are such a close knit community.   So, hunker down with your favorite peeps NOLA…time to ride out this storm NOLA style.